This website celebrates 125 years of the Calpe Rowing Club in Gibraltar, and is the online version of the printed Anniversary Magazine.

The production of subsequent issues of a Club Magazine is subject to advertising revenue. Therefore, and in order to gauge the viability of further issues, it is imperative that the Calpe Rowing Club's Secretary receives advertising offers as soon as possible.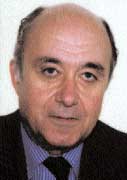 Calpe Rowing Club has, since its inception, been at the forefront of sport in Gibraltar, providing excellent facilities for rowing.

The Club has therefore been, and continues to be, a major contributor to the development of this sport in Gibraltar.

For any Club to reach 125 years of existence is a great achievement and proof of the ongoing important role it has played for the benefit of its members, rowing and the community as a whole.
Calpe Rowing Club's ability to evolve with time and continue to develop high performance rowers pays fitting tribute to the hard work and dedication of all its members, past and present. I am certain that this trend will continue for many years to come.
As Gibraltar's Minister for Sport it therefore gives me great pleasure to congratulate Calpe Rowing Club on its 125th Anniversary.
Ernest Britto
Minister for Public Services, the Environment, Sport and Youth.
---


I am deeply touched to have been asked to contribute a few lines on the occasion of the Calpe Rowing Club 125th Anniversary, an historic Club to which I have had the privilege of belonging during the past 54 years.
The Club after its formation in 1876 soon became the first overseas Club to become affiliated to the Amateur Rowing Association of Great Britain. When in 1899 the Mediterranean Rowing Club came into being, they followed Calpes footsteps and likewise became affiliated to ARA. It is not surprising therefore that both Clubs competed regularly against each other under the ARA Rules of Rowing for many years excepting the war years and a short period of time in the mid seventies due to a dispute.
In mid 1970's the then organising entity known as the Joint Regatta Committee was replaced by the Gibraltar Amateur Rowing Association. The object of the exercise was twofold. GARA would take full control in organising regattas locally, but it would also become responsible in promoting the sport of rowing in Gibraltar as well as Overseas.
The first meeting of GARA was held on 2nd May 1975 at the Health Centre, Casemates, with its first Committee being composed of:
Chairman: Surgeon Capt E H Murchison OBE
Independent Member: Flt Lt G Bell
Independent Member: Comdr. PJS Coombes
CRC Representative: Mr L Codali
MRC Representative: Mr L Gomez
CRC Captain: Mr H Cosquieri
MRC Captain: Mr A Vinales
Joint Hon Secretaries: Mr AJ Arias, Mr J Trico
In 1984 GARA became affiliated to FISA, Federation Internationale des Societes d'Aviron, the World Rowing Governing body. The creation of GARA has undoubtedly brought progress to local rowing. In 1986 members of both Clubs represented Gibraltar at the Commowealth Games held in Edinburgh, Scotland. This was followed by participation at the Commonwealth Games in London, Canada and in the World Rowing Championship in Indianapolis, USA in 1994. Gibraltar was again represented at the Commonwealth Rowing Championships again held in London, Canada in 1999.
Also in 99 GARA acquired the services on part-time basis, of a qualified coach Mr Fred Smallbone who is a Silver Award Holder and has been Chairman of Selectors for British Rowing. During the course of the year he guided a group of senior oarsmen to achieve the highest level of performance seen in Gibraltar in recent years. The following year some twelve junior members were coached on various occasions by Mr Smallbone and as with the seniors, the standard of rowing was vastly improved. He was also instrumental, together with one other highly qualified Coach, in instructing thirteen members of both Clubs in obtaining their Instructors Award Certificates. It is envisaged that these same members will in the not too distant future be able to obtain a higher level, that is, the Bronze Award.
Regardless of all these advancements and even taking into account that the numbers of rowers has increased in recent years, we are still short of the required target, necessary to revitalise the sport of Rowing in Gibraltar.
Perhaps an added incentive to attract and develop the sport might well be the envisaged construction in the not too distant future of a rowing tank for training purposes, together with an additional boathouse to be shared by both Clubs.
Lionel J.Codali
President of Gibraltar Amateur Rowing Association.

---
©2001 123 Printers. Website and magazine designed and produced by 123 Printers.
Magazine published by Michael J Farrugia AIMgt. Advertising Sales by Target Marketing Services Ltd.
Photography by Johnnie Harper and Paul Cosquieri.